North Leigh Primary School provides a diverse, balanced and relevant approach to the use of technology. Children are encouraged to maximise the benefits and opportunities that technology has to offer. We ensure that children learn in an environment where security measures are balanced appropriately with the need to learn effectively. Here at North Leigh, we aim to equip children with the skills and knowledge to use technology appropriately and responsibly. We teach children how to recognise the risks associated with technology and how to deal with them, both within and outside the school environment.

The Internet use is part of the statutory curriculum and a necessary tool for learning. Internet access is an entitlement for children who show a responsible and mature approach to its use. Internet is a part of everyday life for education, business and social interaction. The school has a duty to provide children with quality Internet access as part of their learning experience. Our children use the Internet widely outside school and need to learn how to evaluate Internet information and to take care of their own safety and security.

Advice on cyber bullying
E-Safety
E-Safety Appendix H - Parents Seesaw GDPR Consent
E-Safety Appendix I - Seesaw Privacy, Safety and Security



Safer Internet Day 2023


In school we have been celebrating Safer Internet Day with this year's theme 'Want to talk about it?'. Online safety has a high profile throughout the year and is discussed regularly as part of our Computing and PSHE curriculum.

This year the theme is 'Want to talk About it? – Making spaces for conversations about online life' with the aim of putting children at the heart the discussion, with the aim of asking parents, carers, teachers, government, policymakers, and the wider online safety industry to take time to listen to children and young people and make positive change together.

Click on the class links to see the discussions and activities that we experienced in school...


Advice for Parents
Conversation Starters
Family Activities
Family Online Safety Plan
Organisations and Resources for Parents and Carers
Safe user agreements
Acceptable user agreement Foundation/ KS1
Acceptable user agreement KS2 Part 1
Acceptable user agreement KS2 Part 2
Age appropriate Guidelines for parents
Age appropriate guides: 0 to 5 years
Age appropriate guides: 6 to 10 years
Age appropriate guides:11 to 13 years
Internet Matters Resources: Advice and support for parents
Grandparents' guide to online safety
Helping your child stay safe in the digital world
How to create a great environment for kids to talk e-safety at home
Parents' guide to discovering digital at Primary School
Parents' guide to Live Streaming and Vlogging
Parents' guide to moving to Secondary School - Online safety tips to support children
Set up devices safely - simple checklist
Six tips for keeping children safe while online gaming
Top Internet manners
Weblinks for further information for parents:
www.thinkuknow.co.uk
www.thinkuknow.co.uk/parents
www.saferinternet.org.uk/advice-and-resources/parents-and-carers/parents-guide-to-technology
www.internetmatters.org/
123ICT Online Safety Parents' Handout
Safer Internet Day 2022: All fun and Games?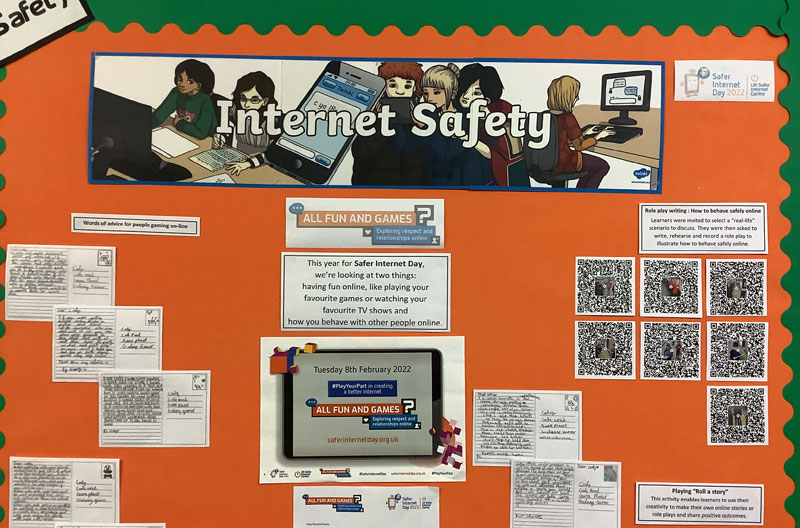 Safer Internet Day 2021

Safer Internet Day 2020

Safer Internet Day 2019

Safer Internet Day 6th February 2018